Kazune Uchida
Kazune Uchida
Save Our Shore Ambassador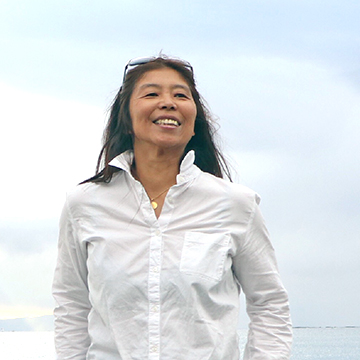 Born in 1972 in Fujisawa.
Kazune was born with Osteoarthritis of the hip, where the bones and joints of hip deforms and creates walking disabilities, but born and growing up in Enoshima, by the sea, she learned how to swim as any young child, and became interested in surfing.
Registered as JPSA (Japan Pro Surfing Association) Certified Pro Long boarder in 2010.
Approved as an Adaptive Surfer(surfers with physical challenges) from ISA(International Surfing Association), won the ISA World Adaptive Surfing Championship, 2 years in a row, 2017 and 2018.
Now moving forward the "Adaptive Beach house Project", to make beaches a more friendly place for the disabled.
She usually works at the Anmitsu Shop in Ryuukouji Temple in Katase-cho Fujisawa, and resides in Kamakura city.
1972 Born in Fujisawa
1975 Starts swimming at a swim school
2000 Starts long board surfing seriously
2010 Register as pro surfer
2014 Becomes Japan Surfing Association Shonan/Kamakura District Leader
2017 Wins ISA World Adaptive Surfing Championship AS-! Women's class
2018 Wins same championship for the 2ndtime