Rev. Masanori Kabashima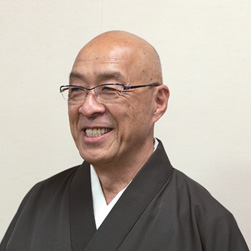 Head priest of Yakushi-ji Temple (Tenryuji school, Rinzai sect of Zen), Kyoto. Previously taught at Hanazono University. Practitioner of acupuncture, moxibustion, and shiatsu.
---
From the time that he was in university, studied under Seizan Yanagida, the renowned scholar of Chinese Zen history. Until Yanagida's passing he continued to receive Yanagida's close guidance, including the instruction to foster the type of Zen which is concrete and serves a practical purpose.
Following this instruction, he was able to overcome allergic asthma from which he had suffered since birth. In doing so, he came to understand deeply and intuitively the actual state of his body and mind, and to realize the need to develop and cultivate the core of the body in order to lead a tranquil yet robust life. Accordingly, Zen should be neither an abstract idea nor a commentary, let alone an authority. Rather, Zen must be a religion that helps people to create an enriching life while providing the concrete techniques to do so.
Kabashima's own health dojo located at Yakushi-ji Temple has been running for close to 40 years. He is the author of over 20 books, including: Why do Buddhist priests never get ill; Promoting robust Zen; Zen therapy for petit depression; How to get healthy while resisting training. He continues to speak at companies and local and regional government offices throughout Japan.
Zen 2.0 Seminar
2018