Myouyu Tamaoki
Monk, spiritual / nursing care teacher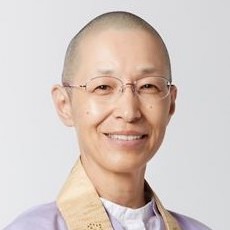 Born in Nakano-ku, Tokyo, Japan, Myouyu graduated from Senshu University, Faculty of Law. Her husband's "natural death (not choosing to be placed on life-prolonging treatment)" was so beautiful that she became a Buddhist monk, training in Koyasan Shingon Buddhism.

She established a non-profit organization "Daiji Gakuen", to provide spiritual care for those who are at the end of life, in social withdrawal, not attending school, struggling in raising children, suicidal, and bereaved family members of suicide victims. In addition, she runs a neurology training school Yourou Shinan Juku (for healthy old age life of family) to help next generation learn about parental care and end-of-life care. She also runs the visiting spiritual care specialists program for nurses, care managers, caregivers, monks and others who are interested in spiritual care. She is works in a wide range of activities as well, including lectures and symposia.

She is the author of the books "First, Fill Your Cup" (Asuka Shinsha publishing Inc.) "If You Are in Trouble, Stop. If You Get Lost, Leave"(Yamato publishing Inc.) "Let's Approach the Hearts of Dying People Care between Medicine and Religion" (Kobunsha Shinsho publishing Inc.) as well as Radio Nippon Broadcasting System's "Telephone Life Consultation" personality.